Posted by Tori Radday on Jun 26th 2018
Hello! Here at Mary B Decorative Art, we love decorative home accents that serve more than one purpose. More bang for your buck is always a good thing, right?! And what's one of our favorite types of multi-purpose home decor items? Decorative trays. You can use decorative trays many different ways in your home. They're practical as well as pretty- and a must have for any home. We've rounded up nine creative ways to use decorative trays in your home, keep reading for a few suggestions: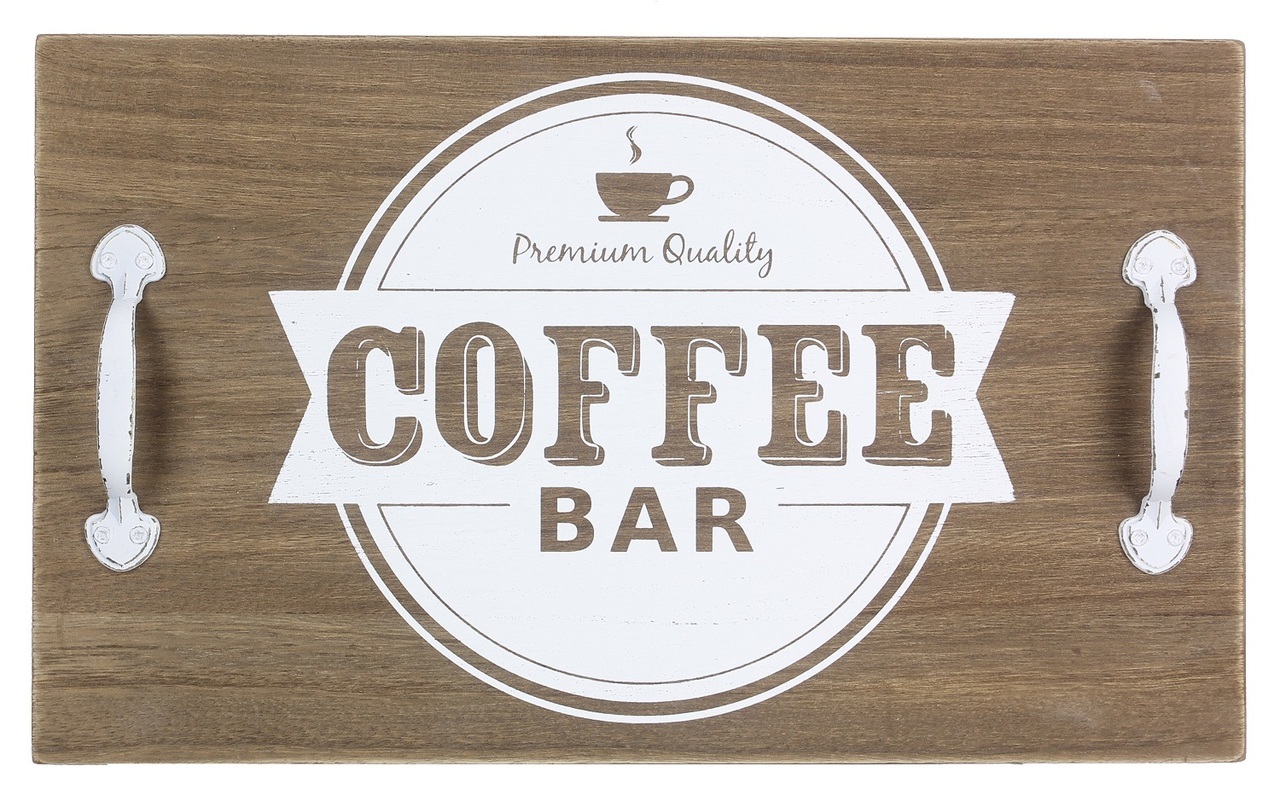 Check out our Premium Coffee Wood Tray with Metal Handles or Wall Sign.
1. Place a decorative tray on top of a sturdy wicker basket or other woven basket for a makeshift table. Voila- instant storage and surface space! Use this suggestion in your master bedroom, living room, guest room, etc. Here's an idea: keep a basket next to your bed for dirty laundry and place a tray on top of the basket for a makeshift bedside table. You can easily move the tray to the side when you need to get into the basket. And you can use that same tray for whenever you want to enjoy breakfast in bed.
2. Use it to serve guests. Delight dinner guests with a tray full of cocktails or appetizers. Serving trays will come in handy time and time again- and you can easily use decorative trays to serve guests as well. Just make sure the decorative tray is food safe if placing food directly on the tray; otherwise use small plates on the tray for the food. You can use a tray to serve cheese and crackers on wine night with your girls or for serving after school snacks to your children and their friends.
3. Hang it on the wall as decor. Some decorative trays are too pretty to be covered up! Get creative and display it on the wall instead.
4. Arrange pretty items on the tray and use it to decorate your living room coffee table. Try arranging a fresh vase of flowers and a candle in your favorite scent on a tray to dress up your coffee table. You could also add a few shells to the arrangement; they'll serve as a pleasant daily reminder of the seashore. The arrangement will instantly create a relaxing, peaceful mood in your living room- and what's better than that?
5. Keep a tray on a table in your front hallway and put your mail and keys down on it when you get home. Stay organized in your home by keeping your mail and keys in one place- not all over the kitchen counter and front hall table- by establishing a tray specifically for them.
6. Maximize your surface space by placing a tray on top of an ottoman or even your couch. Want more surface space but limited on actual space in your home? Try out this suggestion. Rest a tray on an ottoman or couch and use it to keep a drink or candle. Simply move it to another spot when you sit down.
7. Use it as a catchall on your nightstand. Keep everything together on your bedside table on one neat tray. You can easily move the tray whenever you want to clean up bedroom clutter in a pinch.
8. Keep your remotes together on a tray so you can easily keep track of them. No more lost remotes! Make sure everyone in your family knows where the remotes are supposed to go.
9. Create a display in the center of your dinner table using a decorative tray. There are two approaches to this suggestion: a visual, aesthetic approach and a utilitarian approach. A fresh vase of flowers paired with several other decorative accents will create a beautiful display on any dinner table. Or go utilitarian and use a tray to keep all your dinner table essentials within reach in the center of your table- think napkins, seasoning shakers, etc. One of the things that we love about this idea is how easy it makes cleanup after dinner. Instead of having to try to wipe around a bunch of little things on your dinner table, you can simply move the tray to the side while cleaning up after dinner.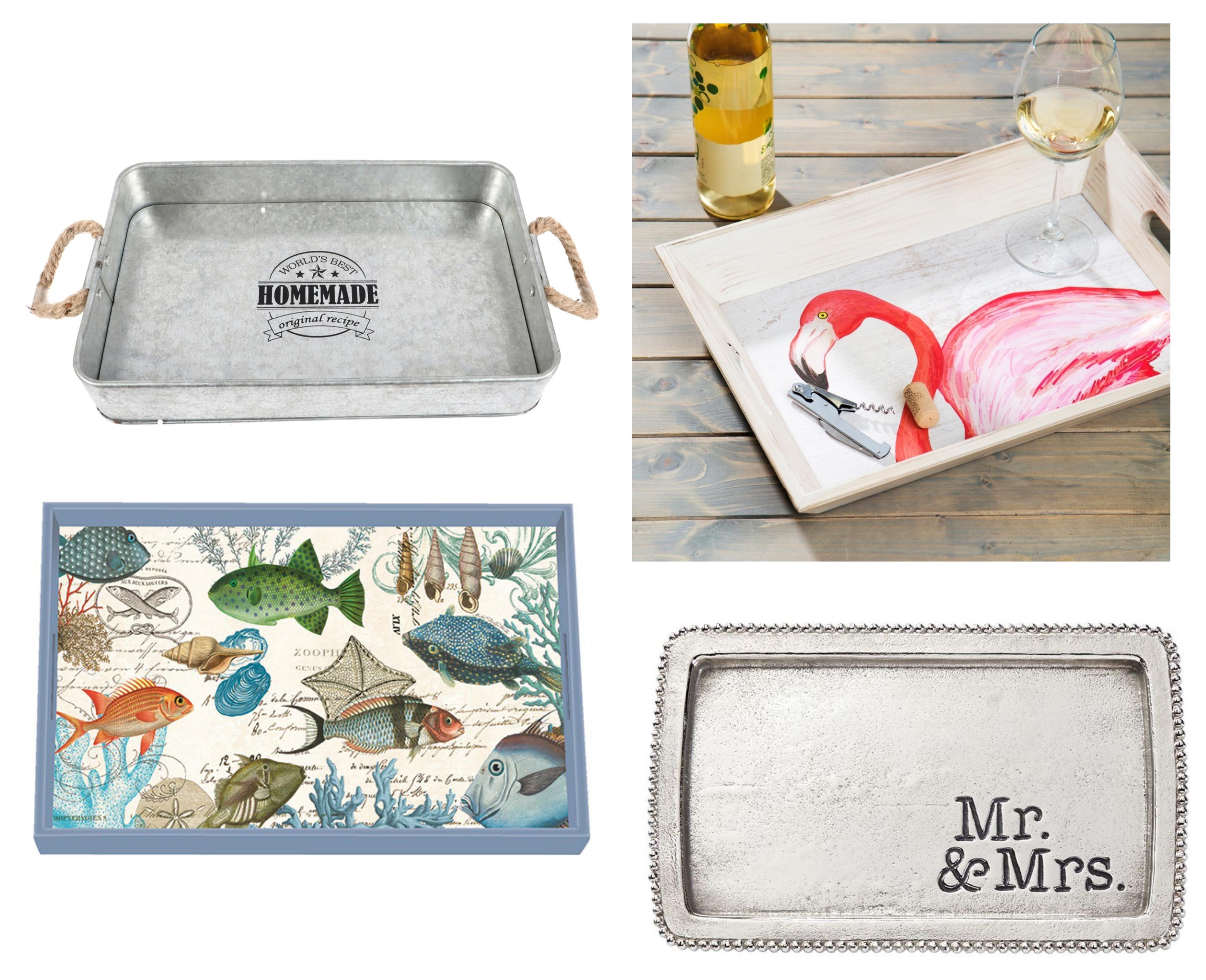 We have many different trays available for sale in our store; we carry serving trays as well as decorative trays in an assortment of different colors and styles. We suggest that you check out our "Galvanized Metal Serving Tray with Rope Handles," "Pretty Pink Flamingo Wooden Serving Tray," "Mr and Mrs Trinket Tray," and "Tropical Fish Coral Shells Sea Life Vanity Decoupage Wood Tray."

Are there any other ways that you use decorative trays in your home? We'd love to see photos if you try out any of our suggestions!