Posted by Tori Radday on Jun 14th 2018
Hello! Mermaid products continue to trend in interior design and it's easy to see why; they're fun, whimsical and remind us of summer adventures. There's an irresistible sense of fantasy surrounding the mythical creatures. You can go ahead and let your imagination run wild when you decorate your home with mermaid decor. Dream of seaside memories, playful days at the beach and fairy tale mermaid stories. Decorating your home with mermaid decor creates a dreamy, happy, carefree atmosphere in any home- regardless of whether you live along the coast or hundreds of miles away from the seashore. We carry a wide selection of mermaid decor here at Mary B Decorative Art and are constantly updating our store with new mermaid products. Keep reading to check out our mermaid faves: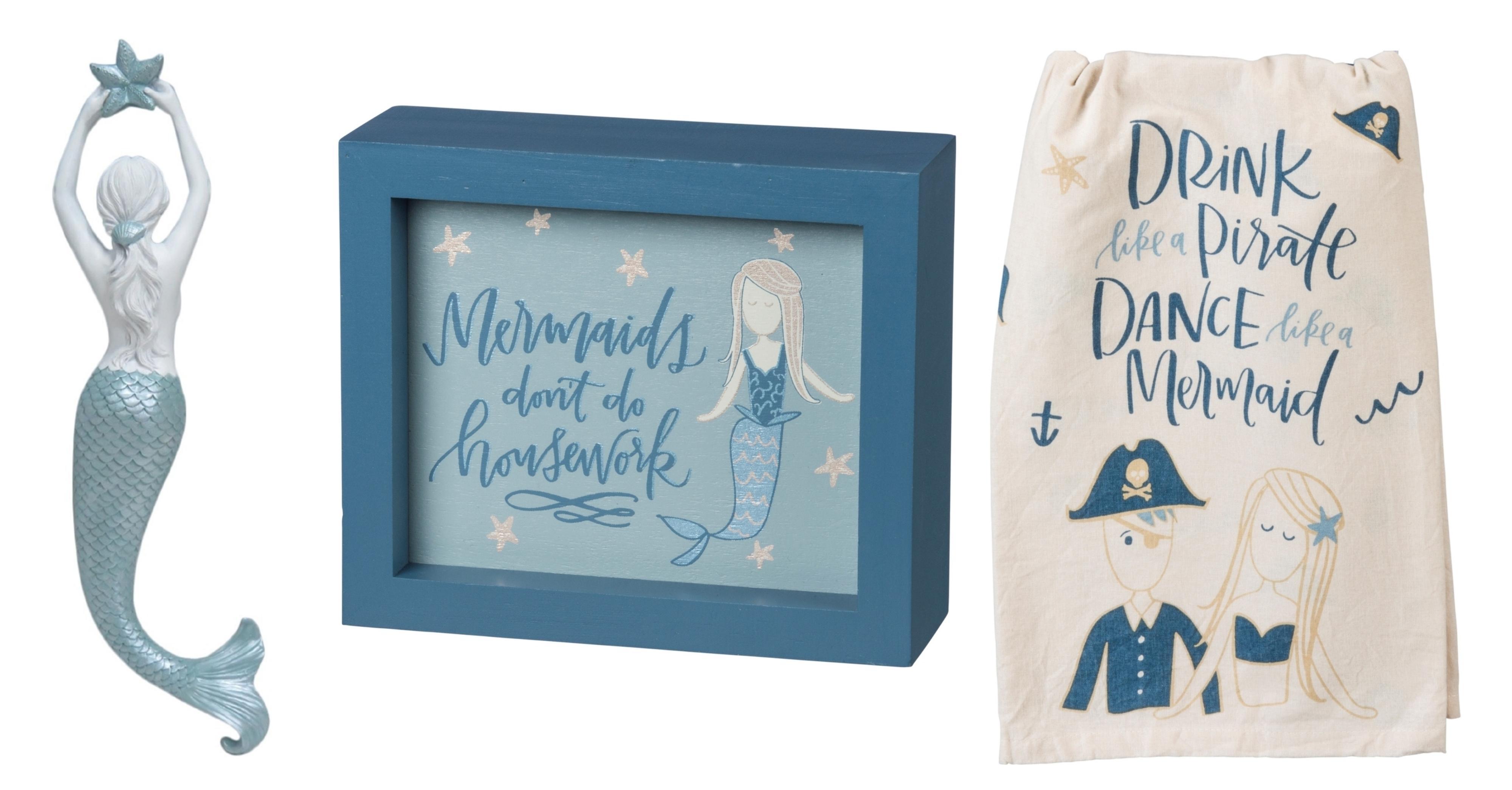 1. Blue and White Mermaid Back View Swimming With Starfish Wall Plaque. We love this gorgeous blue and white mermaid wall plaque because it highlights a different view of the mermaid than you normally see- her back.
2. Mermaids Don't Do Housework Blue Box Wood Sign. Ha, this box sign reads "mermaids don't do housework"- if that's true, can we please be mermaids??
3. Drink Like a Pirate and Dance Like a Mermaid Kitchen Dish Towel. This dish towel encourages you to "drink like a pirate" and "dance like a mermaid"- now that's some advice that we can follow! Use it to decorate your kitchen all year long or as a fun summertime kitchen accent.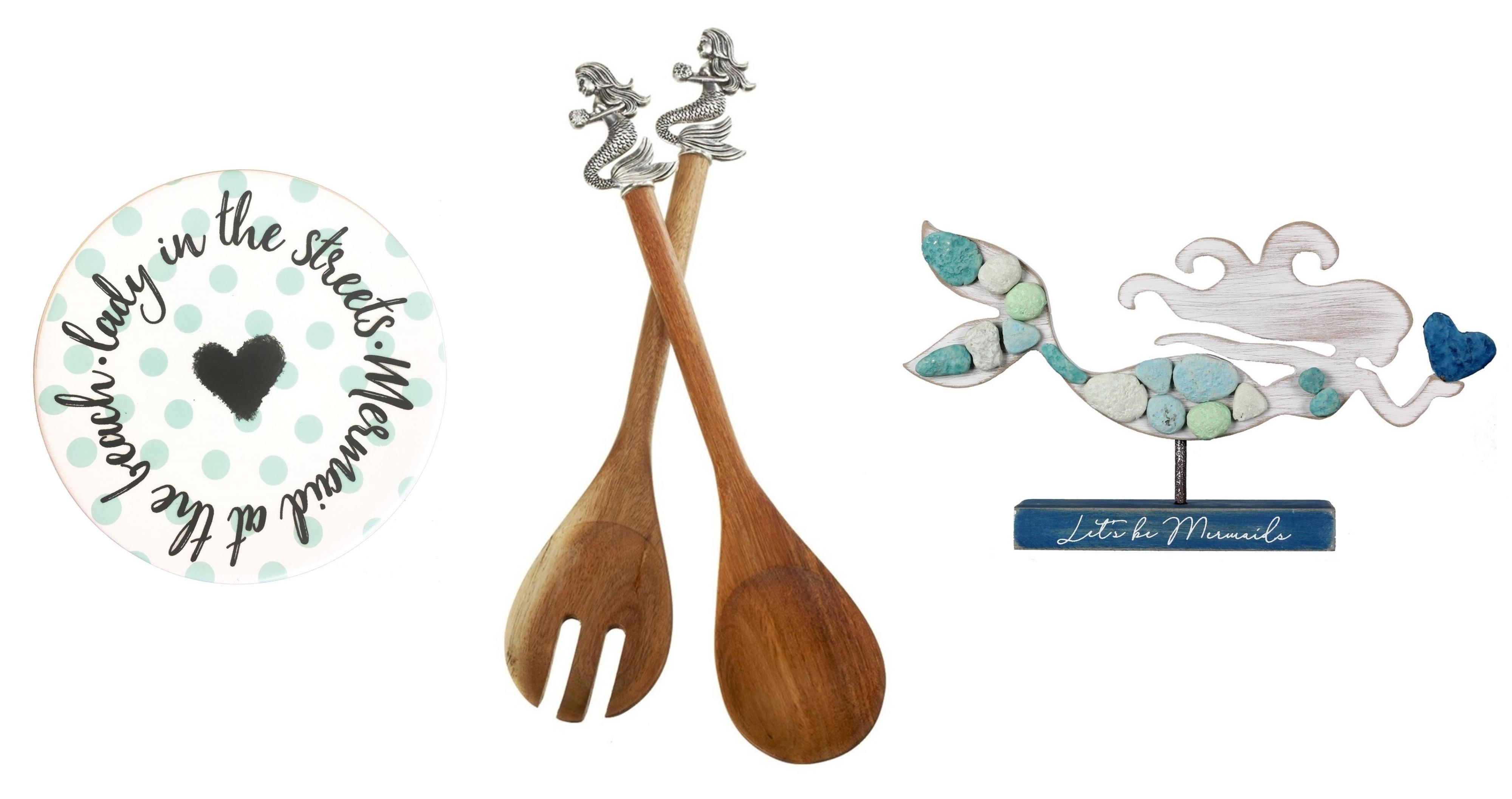 4. Mermaid at the Beach Lady in Streets Trinket Dish. Mermaid at the beach, lady in the streets! Who can relate to the phrase featured on this trinket dish?
5. Mermaid Icons Wooden and Metal Salad Servers Set. Serve up whimsical style and fun with these mermaid salad servers. They're perfect for any summertime celebration or home by the seashore!
6. Let's Be Mermaids Swimming Mermaid Figurine. If you've ever dreamed of being a mermaid, this "let's be mermaids" figurine makes the perfect addition to your home. It looks great in any room and will instantly remind you fondly of happy seaside adventures.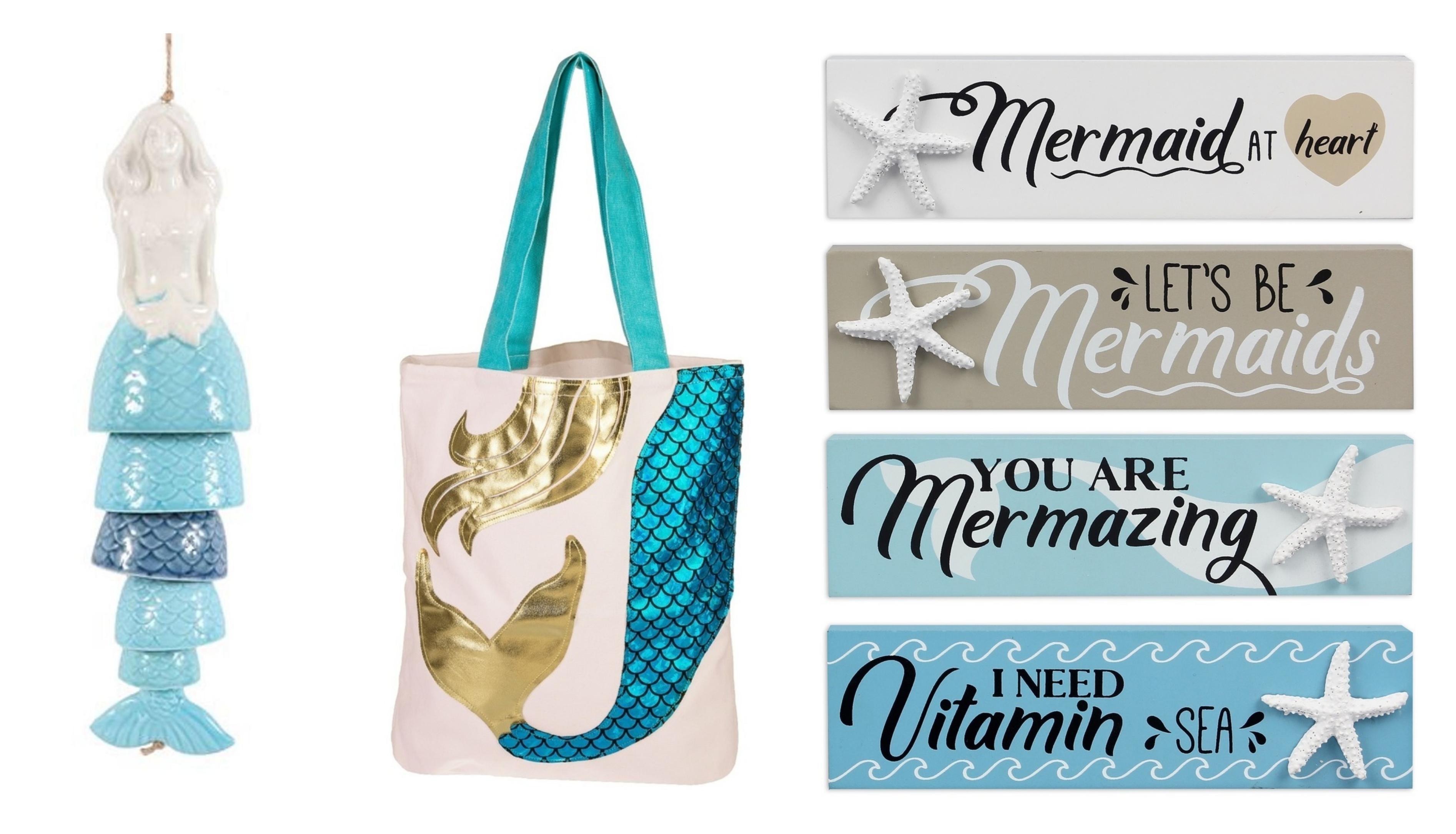 7. Blue and White Mermaid Wind chime. This wind chime sounds just as pretty as it looks when it blows in the breeze. Take a close look and you'll notice its gorgeous embossed details. Use it to decorate your front porch or back patio.
8. Mermaid Scales Megan Teal and Gold Appliqued Tote Bag. This tote bag is perfect for summer adventures! Bring it with you to the beach, pool, library or even to the grocery store. You'll use it time and time again.
9. Mermaid at Heart You Are Mermazing Need Vitamin Sea Wood Blocks Set of 4. Dream of the sea when you decorate your home with these coastal blocks. Use them to decorate your living room bookshelf or hang them on a wall in your home.