Posted by Tori Radday on Mar 28th 2017
Hello! Where did March go? It feels like we were just celebrating St. Patrick's Day but really Easter is right around the corner, in a little less than three weeks. We've begun packing away our favorite pieces of St. Patrick's Day decor as we eagerly begin planning out our decor for this Easter. We're feeling inspired by bright colors, soft pastel shades, Easter chick motifs and subtle bunny rabbit designs. Of course, we have plenty of Easter decor from years past that we can't wait to bring down from our attics but it's always enjoyable to update holiday decor from previous years with a couple fun new pieces. While perusing our Mary B Decorative Art Easter selection for our own home updates, we stumbled across more than just a couple favorite pieces and decided to compile those favorites into a list to share with you all to make your lives a little easier. No more browsing countless shops and sites to find the Easter decor that you're looking for- we've rounded it all up here for you! Even better yet? All items featured below retail for less than $35 each (with some items costing less than $15!) Decorating for Easter just got so much easier.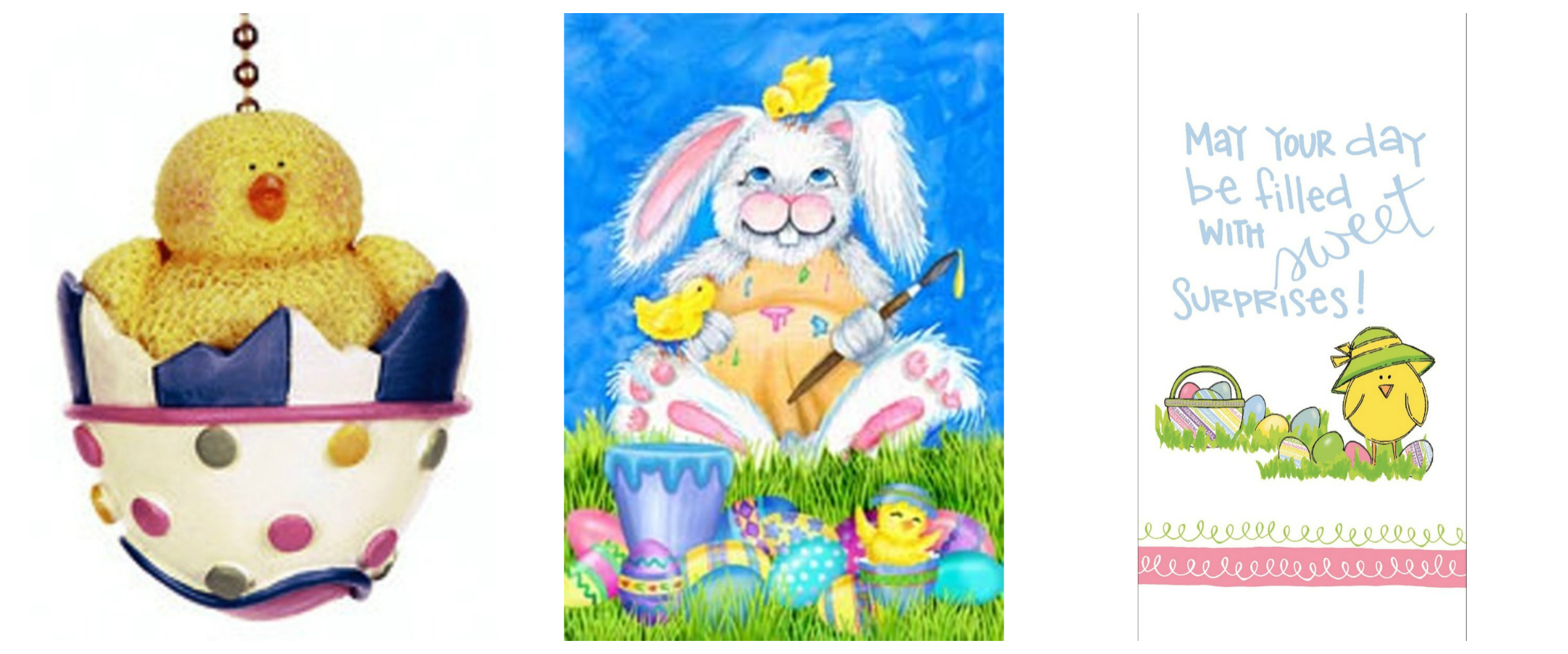 1. "Spring Easter Egg Chick Nursery Deck Fan Light Pull." The adorable Easter chick design and vibrant colors of this fan pull make it an ideal addition to your Easter decor.

2. "Easter Bunny Painter Baby Chicks and Eggs Garden Flag." How cute! Add a festive touch of whimsy and charm to your front yard with this Easter bunny painter garden flag. You'll look forward to decorating your garden with it year after year.

3. "May Day Be Filled With Sweet Surprises Easter Chick Flour Sack Kitchen Towel." The lively spring colors and sweet design of this Easter chick kitchen towel make it a wonderful (and affordable!) piece of Easter decor.

4. "Bunny Snacks Easter or Spring Ceramic Serving Tray 9 Inches." This bunny snacks tray is just too cute! Use it at your Easter celebration for a festive touch.

5. "Hippity Hop Bunny Rabbit and Eggs Applique Burlap Spring Easter Banner 60 Inches." There's no better way to decorate for your Easter party than with this adorable hippity hop bunny rabbit banner. Can you just picture how cute it would look adorning your fireplace mantle?

6. "Fringed Burlap Easter Bunny Ears with Pom Pom Tails Napkin Rings Set of 4." We love these cute little bunny napkin rings because they're perfect for Easter yet also work well throughout the rest of the spring season.

7. "Little Wooly Baby Lambs Salt and Pepper Shaker Set." This salt and pepper shaker set is just too sweet! Great for decorating your Easter dinner table.

8. "Whimsical Funny Bunny Hiding Behind Easter Egg Holiday Happy Easter Garden Flag." You can't go wrong with this classic Easter garden flag.

9. "Garden Bunny Rabbit Cotton Kitchen Chef Apron." Prepare your annual Easter feast in style while wearing this pretty garden apron.


10. "White Bunnies in Metal Wagon Salt and Pepper Shaker Set." Use this set for Easter as well as the next couple months; the versatile bunny design works well for Easter but also works well for spring in general.
11. "Bunny Shaped Napkin Rings in Basket Set Cast Iron and Wood." We love the subtle Easter charm of these bunny shaped napkin rings- and we're sure that you will too!

12. "Boy and Girl Bunny with Dangle Leg Bathroom Linen Guest Towels Set of 2." Both of these guest towels are just so cute! We can't choose a favorite- they're just that adorable. Style them together in your home for a major Easter statement or spread their spring beauty by using them in separate spaces.
Of course we have more Easter decor than what's featured above; you can browse through the rest of our Easter decor, bunny rabbit products and the cutest little spring chick pieces here, here and here and decide on your faves for yourself.