Posted by Tori Radday on Nov 15th 2017
Hello! We often spend more time in the kitchen throughout the holiday season as we prepare for family gatherings and dinner parties. As a result, it's important to make sure that your kitchen is prepared for all of your upcoming festivities. We've rounded up 8 essentials to get your kitchen ready for the holiday season, keep reading to check them out: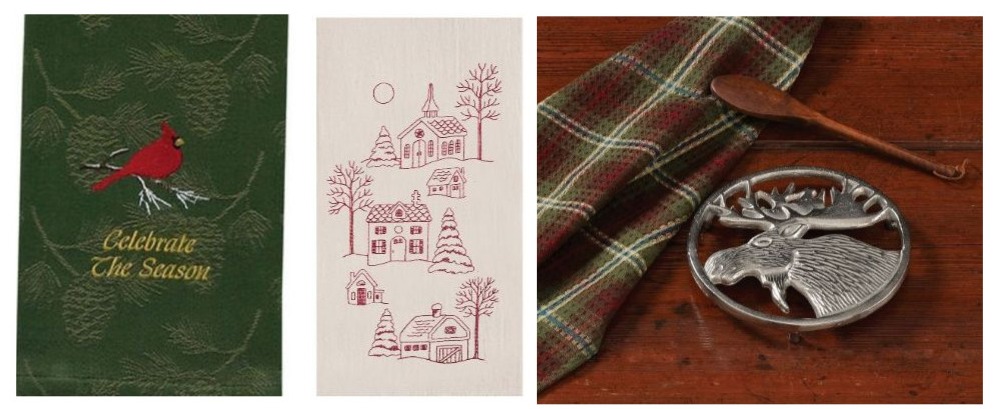 1. Seasonal dish towels. And a lot of them! Make sure that you keep your kitchen stocked with enough festive dish towels to give you a hand this winter. We carry a wide variety of seasonal dish towels but our "Celebrate the Season Cardinal Green Pine Holiday Kitchen Dish Towel" and "Peaceful Village Holiday Embroidered Kitchen Dish Towel" are a couple of our favorites. You can browse all of our holiday dish towels here.
2. Several festive trivets. Do you have enough trivets to set all of your hot food dishes down on? Trivets are crucial for any dinner party or holiday celebration! Check out our "Moose Shaped Trivet."


3. A wintry drying mat. More time spent in the kitchen also equals more dirty dishes. Having an extra drying mat in your kitchen during the holiday season is definitely a good idea. We suggest our "Holiday Sparkle Silver Snowflakes Microfiber Kitchen Countertop Drying Mat."
4. Holiday platters in a variety of sizes. Don't forget the cookie plate for Santa! Be sure to select classic pieces that you'll want to use for many years to come. We recommend our "Chalet Reindeer Christmas Holiday Embossed Glass Plate Serving Platter" and "Happy Santa and Snowman Square Glass Art Serving Platter."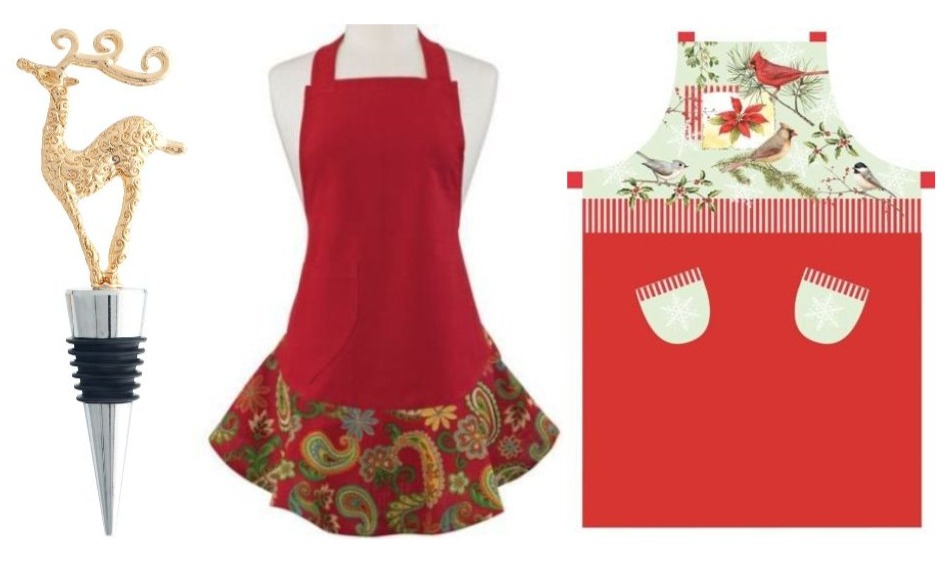 5. A fun wine bottle stopper. We have a wonderful selection of festive wine bottle stoppers but our "Elegant Filigree Gold Reindeer Christmas Holiday Metal Bottle Stopper" is our favorite. You can browse through the rest of our holiday wine bottle stoppers here.
6. A pretty yet practical apron. A necessity for cooking up a storm in style this holiday season! Wearing an apron while cooking your famous holiday dishes will ensure that you won't accidentally ruin your holiday party attire. Shop our "Vermillion Burnt Orange Paisley Print Kitchen Cooking Frilly Chef Apron" and "Red Cardinal Holiday Garden Kitchen Cooking Chef Butcher Apron."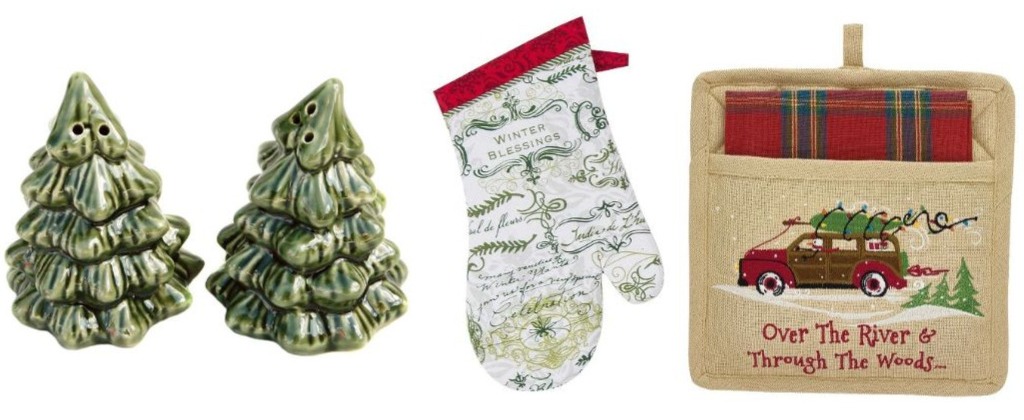 7. A seasonal salt and pepper shaker set. Check out our "Holiday Evergreen Trees Salt and Pepper Shaker Set."
8. Pretty yet practical oven mitts and pot holders. More cooking calls for more oven mitts and pot holders! Select festive pieces that will add style to your kitchen as well. Shop our "Winter Blessing Green and White Cotton Kitchen Oven Mitt" and "Through the Woods Car Hauling Holiday Tree Pocket Potholder and Dish Towel Set."
We've featured a variety of our favorite kitchen holiday essentials above but we carry much more than what we've featured; you can browse all of our kitchen holiday essentials here.