Posted by Tori Radday on May 15th 2018
Hello! It's that time of year again- wedding season is upon us. And you know what that means: the search to find the perfect wedding gifts for your engaged friends and family members begins. You want to select gifts that the recipients will use for years to come in their happy new marriage- think versatile home decor and serving pieces in neutral colors and styles. We've rounded up our best wedding gifts- at every price point. Keep reading to browse through our selection of wedding gift options that even the pickiest couple (and your wallet!) will love:
If your budget is $50 or less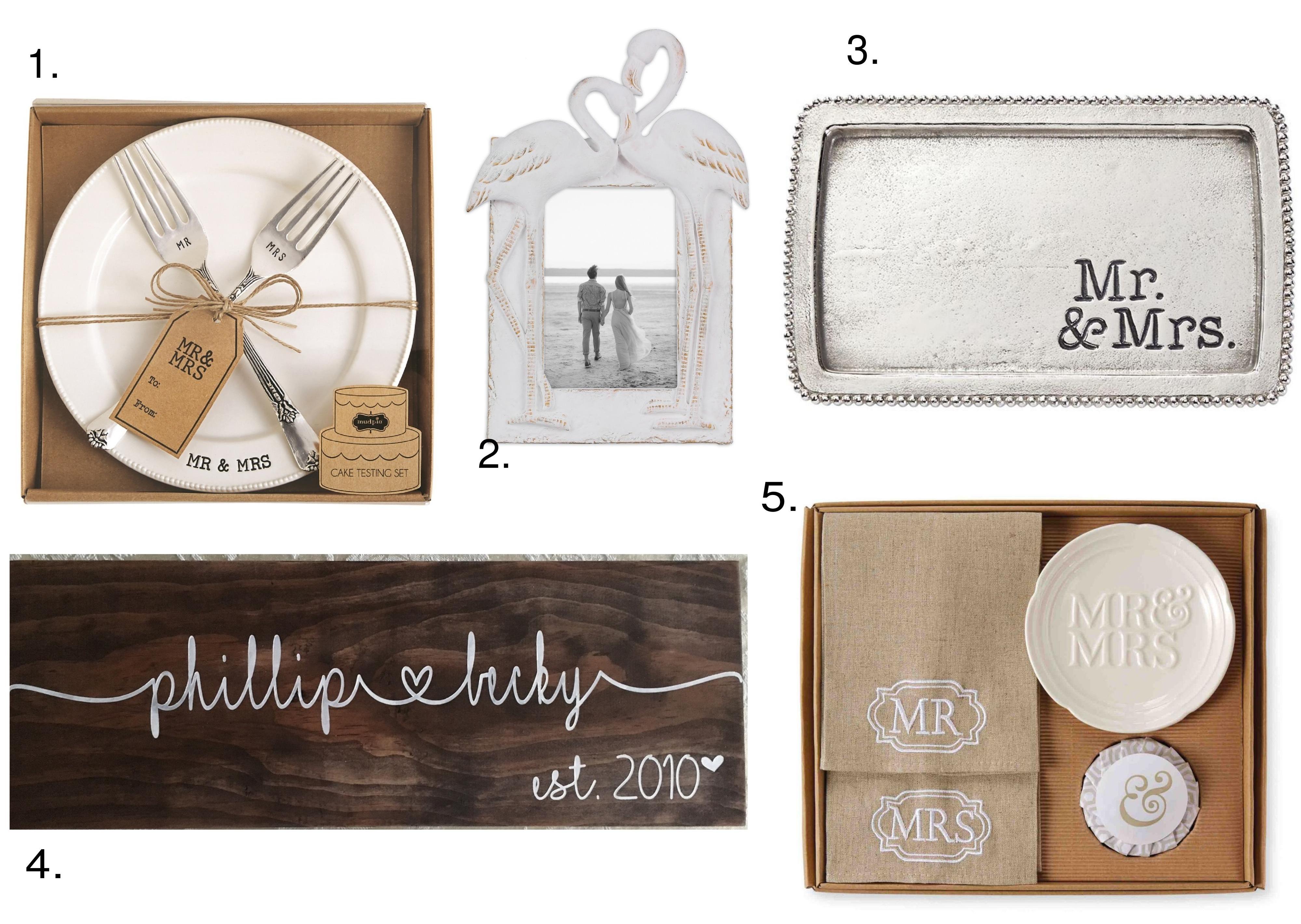 1. Mr and Mrs Plate and Fork Wedding or Anniversary Serving Set. This sweet set will remind newlyweds of their happy day whenever they use it- for years to come.
2. White Paired Flamingos Photo Frame. Fill this frame with a special memory, or leave it empty so that the love birds can display a wedding photo in it, for a thoughtful yet affordable wedding gift.
3. Mr and Mrs Trinket Tray Beaded Edge. The versatile design, sweet Mr. & Mrs. sentiment and gorgeous silver color of this tray look beautiful in any home.
4. Couples Names and Date Stained Wood Wall Plaque. A personalized wall plaque like this one (custom made by Mary B!) will show how much you care.
5. Mr and Mrs Embroidered Guest Towels and Soap Dish Bathroom 4 Piece Set. Great for any newlyweds!
If your budget is between $50-$75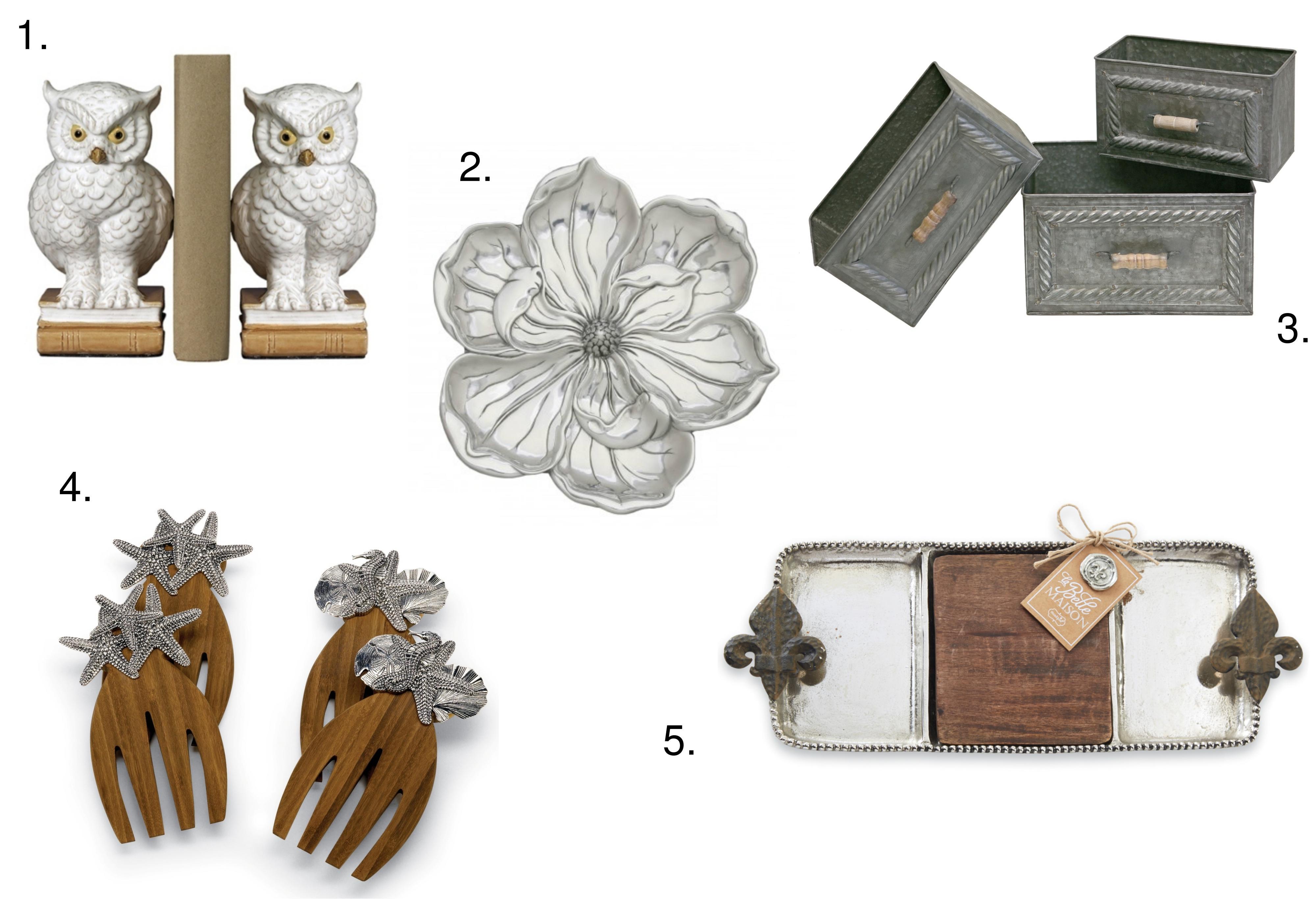 1. Wise Scholarly Owl on Books Set of Bookends. Beautiful bookends like these wise owl bookends make a practical, thoughtful wedding gift for any avid reader or scholar.
2. Southern Magnolia Blossom Bloom Shaped Serving Tray. The elegance of this serving tray makes it a special wedding gift for anyone. And it even comes gift boxed!
3. Embossed Galvanized Tin Nesting Drawers Shelf Storage Set of 3. These nesting drawers complement many other styles and colors of decor- making them a wedding gift that you know the recipient will use in their home.
4. Salad Server Hands Starfish and Sealife Cluster Wooden Set of 2. Pretty + practical = the perfect wedding gift for anyone.
5. Fleur De Lis Sectioned Serving Tray Metal and Mango Wood. Who wouldn't love this gorgeous serving tray? It's great for a variety of different occasions.
If your budget is between $75-$175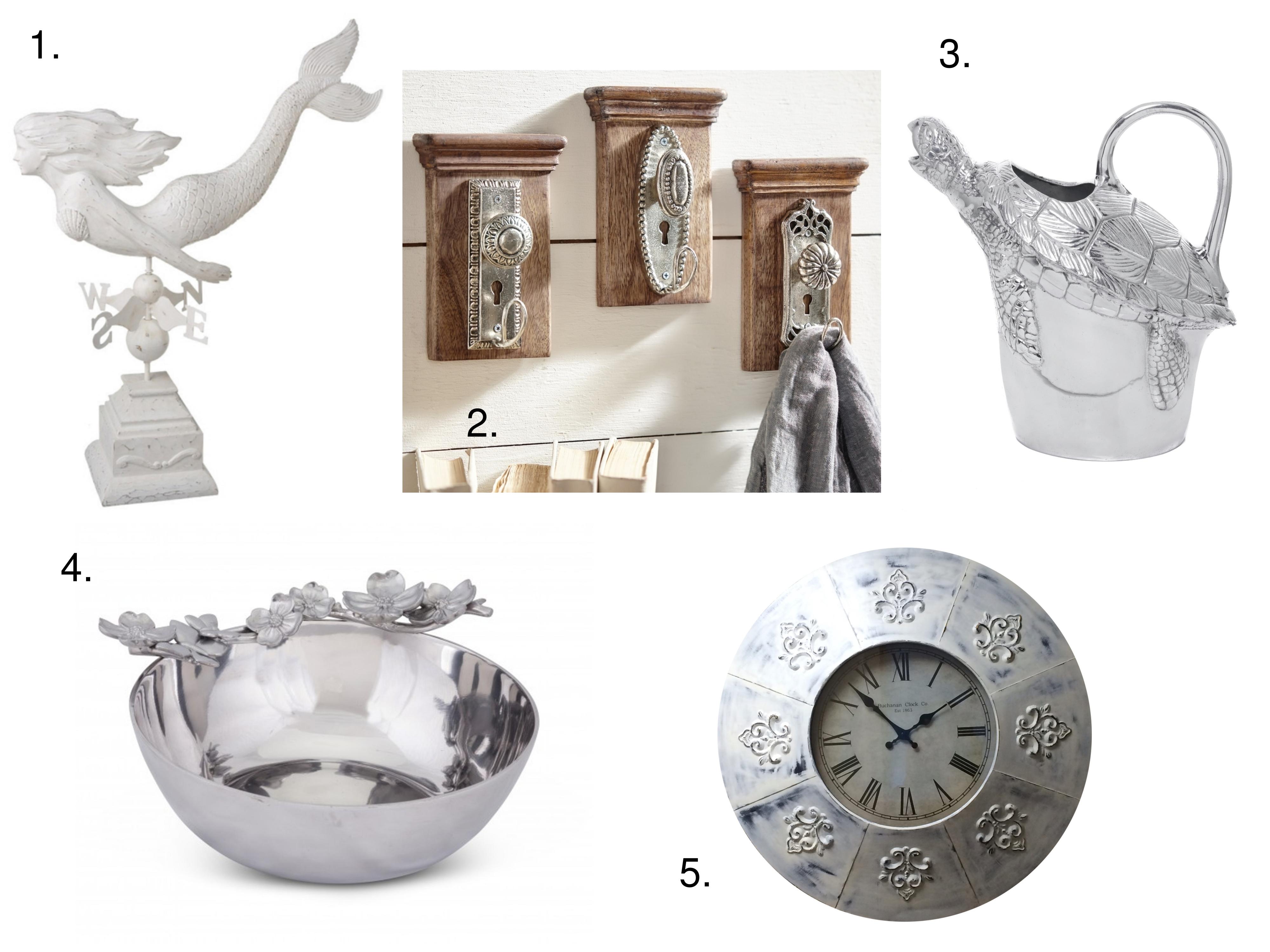 1. Mermaid Weather Vane Coastal Tabletop Figurine Decor. Delight any beach lover when you gift them this eye-catching mermaid tabletop figurine for their wedding.
2. Beaded Fluted and Petal Doorknob Wall Hooks Set of 3. Great for enhancing the style of any home!
3. Coastal Sea Turtle Shaped Serving Pitcher. The coastal sea turtle design and polished aluminum texture of this serving pitcher are truly stunning. Anyone would feel lucky to receive this as a gift.
4. Dogwood and Butterfly Round Serving Bowl. This serving bowl is versatile, beautiful and useful- it doesn't get much better than that!
5. Fleur de lis Wall Clock Distressed Round Metal. The unique style and elegance of this wall clock make it easy to fall in love with.